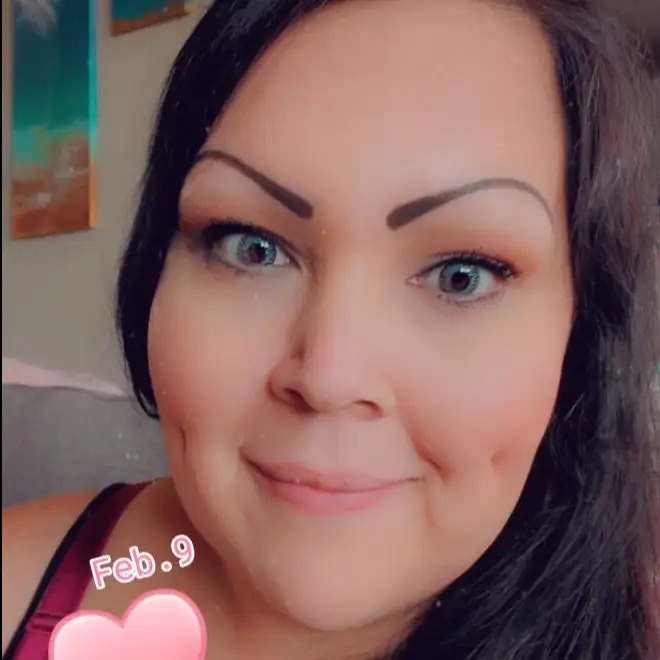 Loana Perez
Teacupfuls CEO
My name is Loana Perez and I am the CEO of Teacupfuls. I am a wife and a mother of 4 wonderful kids ages 1-14 years old. They are really the driving force behind the success of our business adventures!
I was born and raised in a small town in Oregon. I am from a Vietnamese background and love to learn about different cultures. Some of my hobbies consist of attending car shows, fishing, camping, and any type of traveling.
I absolutely adore my job, it's a dream job, I mean who wouldn't want to work with amazing people and make the most unique handcrafted boba tea drinks?! I Love it!
When TeaCupFuls was born I never could have dreamed of working with such amazing people. We are truly blessed.
Favorite Food — Rice paper (also known as fresh rolls)  or Banh Mi
Favorite Place — Well this changes a lot haha but currently I love Arizona the phoenix area to be exact
Favorite Activity — I would have to say playing with my kids or attending a good car show
Favorite Color — Maroon
My favorite thing about working here — The Team I work with! I am extremely lucky to get to work with such amazing people!
Favorite boba drink — Hands down Level 1 green tea with honey and coconut jellies I can drink several of these a day haha
Favorite food — Birria Tacos
Favorite place — Alyeska
Favorite activity — Floating the river
Favorite color — Blue
My Favorite thing about working here — making specialty drinks with cotton candy and watching the customer's reactions.
Favorite Boba drink — Chocolate/Salted Caramel Chai with Tapioca!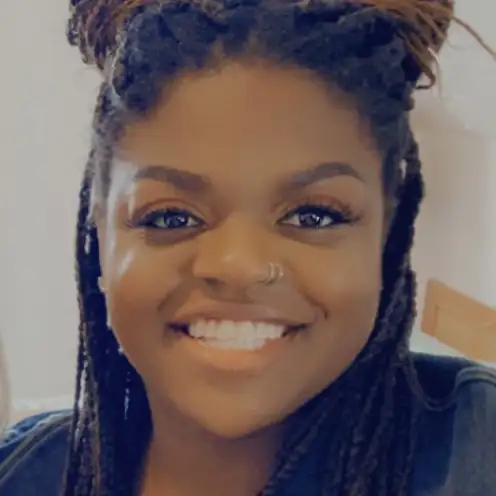 Nyesha Joseph
Regional Manager
My name is Nyesha Joseph and I am the Regional Manager for Teacupfuls.
Once upon a time, I played college basketball for 4 years. While also obtaining a business degree with a concentration in marketing.
Currently,  I enjoy eating different foods from all around the world, live music at the amphitheater, and floating in the river as much as I can in the summertime.
I was born in St. Thomas, Virgin Islands but raised in Anchorage and Girdwood, Alaska.
Shyane Toledo
Manager, Downtown Bend
Hello there, I'm Shyane Toledo, but you can just call me Shy. I am the Manager at the downtown Bend location.
I am a proud mother of a sweet little girl named Tzeplyn and a three-legged dingo/lab named Tech-Raider.
I enjoy traveling and eating new foods. I also love exploring new lakes in the summer and soaking up the sun.
Teacupfuls is a great place for me to work because it's such an upbeat environment filled with smiles and laughter, which is kinda my philosophy for life. Plus who wouldn't love being surrounded by cotton candy and boba all day long ❤️😁
Favorite Food — My grandma's Pozole
Favorite Place — Santa Cruz beach boardwalk
Favorite Activity — Riding mega coasters/ dancing with my daughter
Favorite Color — Hot pink/ Seafoam blue
My favorite thing about working here — I really enjoy making up monthly specials and watching people enjoy a concoction I created. Also seeing the faces of surprised customers when we roll out a drink with an 'extra big top'.
Favorite boba drink — Shy Thai (salted caramel Thai tea, with espresso, cream, boba, and sea salt foam!! Yummmm ❤️
Favorite Food- My Grandma's Biscuits and Gravy
Favorite Place- Sunset Cliffs, San Diego
Favorite Activity- Line Dancing
Favorite Color- Lavender
Favorite Thing About Working Here-  My amazing coworkers and wonderful regulars I have acquired!
Favorite Boba Drink– Raspberry/Mint Black Tea with Aloe Jellies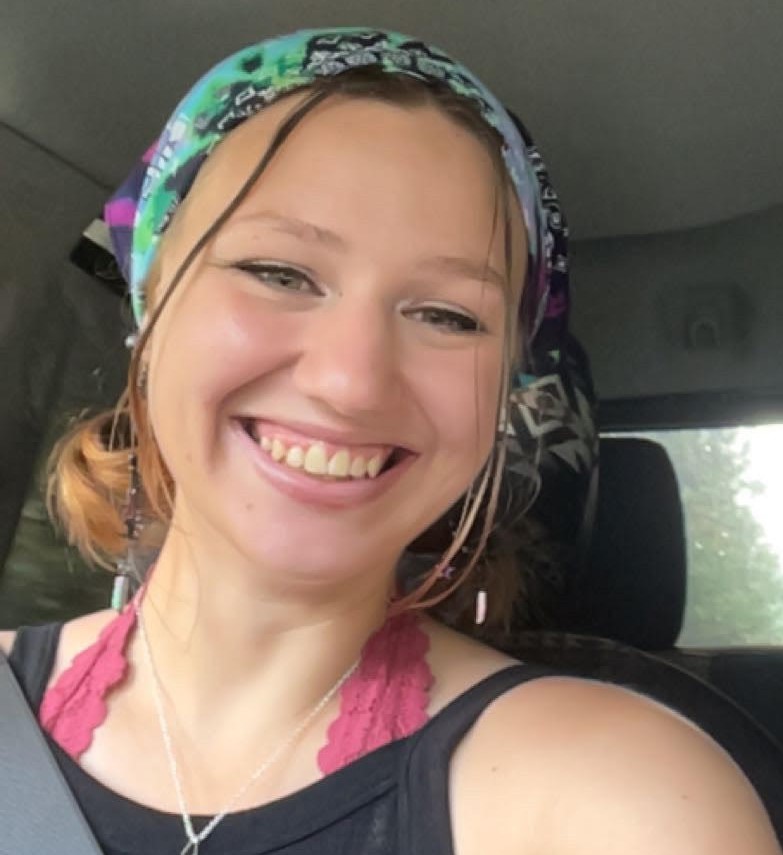 Madison Hunsley
Manager, Rogue Valley Mall Medford
Howdy! My name is Madi and I am the Medford location Manager in the Rogue Valley Mall.
I grew up in the outskirts of San Diego, fell in love and moved with my husband to his hometown, Prospect, to start our little family including our son, Casey, and mini golden doodle!
When I am not with my family or working, you can find me line dancing the night away! I love learning the complex steps that create such beautiful patterns as well as the community created.
I love TeaCupFuls for the wonderful community we have created and the smiles we give people with our drinks!
Hello! I'm Madison, but you can call me Maddy, I am the manager at the westside location
I was born and raised in Bend Oregon, and have always been taught to love the outdoors/nature! 
Currently I love going out on my paddleboard and exploring new lakes and rivers with my friends.
I am a proud pet parents of 3 adorable Cats, Gus, Parsley, and Callie, and I appreciate spending time at home with my family and cats. 
Teacupfuls is an absolutely amazing place to work where I feel I've always been seen and rewarded for my hard work, and creative ideas! 
Favorite food– Tacos of any sort!!
Favorite place–Any forest surrounded by trees!
Favorite activity–Paddleboarding and hanging out with my friends and family!
Favorite color–Cyan 
My favorite thing about working here–
I love the fact we have drinks for anyone! Anyone can be included in the fun whether you love boba or not! 
Favorite drink– I love a Lvl 2 vanilla/ strawberry milk tea with tapioca! Or a Peach raspberry Butterfly tea with strawberry pops!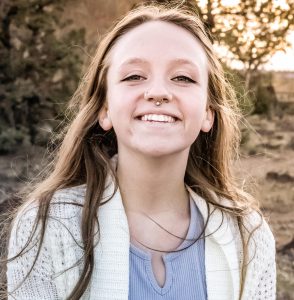 Madison Calidonna
Manager, Westside Bend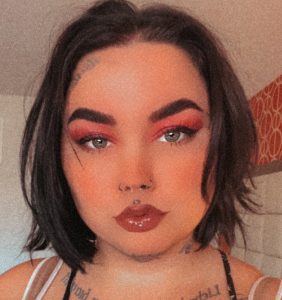 Skyleigh Nelson
Manager, Eastside Bend
Hello everybody! My name is Skyleigh Nelson, but my friends, Sky! I am the general manager of our brand new East-side location.
 I've lived in Central Oregon for most of my life, and will always call our beautiful area home! In my free time, I like to travel or find adventures near me.
A fun fact about me is that I collect plants. As long as they are not toxic to my pets, I'll take it!
Favorite food– while I love all food, I love trying something new, my favorite food would have to be my grandma's spaghetti! Or anything she cooked, really!
Favorite place– the Oregon coast. Honestly, it doesn't matter the time of year, I think staying anywhere on our coast is just so relaxing and comforting.
Favorite color– moss and forest green! I have accumulated almost every kitchen accent in these shades. It looks beautiful mixed with black, and natural plants!
Favorite thing about working here– it's hard to say because there's so many things that I love about working for Teacupfuls and the environment you experience while here. I do have to say I really love the opportunity to create new things and introduce people to Boba!
Favorite drink– my favorite drink is a drink I 've just recently tried and put a spin on! It's a hot cinnamon and white chocolate chai with oat milk and sea salt foam, but just a dollop! It taste like an oatmeal cookie!